Doppia Graphite Grey-Alu
U8806 PM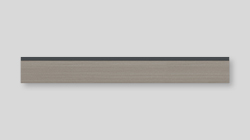 Decor
All our shown and mentioned decors are reproductions. Colour-matching decor selection only possible on the original sample.
Colour and character
Doppia edging consists of a wide strip with an aluminium look and a narrow coloured strip. In combination with a board in the same colour, it creates the impression of a thin glass plate applied to an aluminium core. This adds value to the board.. The U8806 PM variant is adapted to the Graphite Grey uni colour U961 on the high-quality lacquered surface PM PerfectSense Matt.
Availability update
With the launch of the new Decorative Collection 24+ in February 2024, the availability for this decor will change from January 2024. Please click the link below for further details.
Availability Decorative Collection
There are no colors for this product.
Please select another product.