Doppia Indigo Blue-Alu
U8801 PM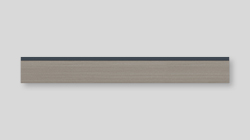 Decor
All our shown and mentioned decors are reproductions. Colour-matching decor selection only possible on the original sample.
Colour and character
The Doppia edging consists of a wide strip with an aluminium look and a narrow coloured strip. In combination with a board in the same colour, it creates the impression of a thin glass plate applied to an aluminium core. This adds value to the board. The U8801 PM variant is adapted to the Indigo Blue uni colour U599 on the high-quality lacquered surface PM PerfectSense Premium Matt.
Availability Decorative Collection
There are no colors for this product.
Please select another product.