Three Layer Natural
H8957 ST10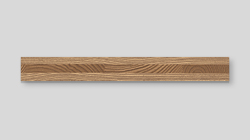 Decor
All our shown and mentioned decors are reproductions. Colour-matching decor selection only possible on the original sample.
Colour and character
With the three-layer edging, you can create the look of a massive blockboard. The H8957 variant is colour-matched with the Brown Mountain Larch.
Availability update
With the launch of the new Decorative Collection 24+ in February 2024, the availability for this decor will change from January 2024. Please click the link below for further details.
Availability Decorative Collection
There are no colors for this product.
Please select another product.