Trio Halifax Oak Black-Alu
H8904 C2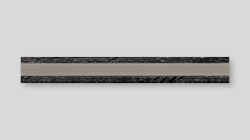 Decor
All our shown and mentioned decors are reproductions. Colour-matching decor selection only possible on the original sample.
Colour and character
Trio edging is made up of edge strips in identical decors and a middle strip with an aluminium look. In the H8904 variant, the edge strips are matched to the Glazed Black Halifax Oak decor and create the look of a sandwich panel with an aluminium core. It works in this case particularly well with the light grey pores and cracks, where the still very dark decorative board receives an eye-catcher on the edging.
Availability Decorative Collection
There are no colors for this product.
Please select another product.