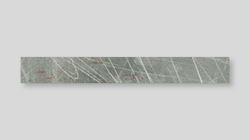 Decor
All our shown and mentioned decors are reproductions. Colour-matching decor selection only possible on the original sample.
Colour and character
The Used Metal edging can set strong accents on white uni colours and add a detailed material contrast. Brown wood or grey uni colours also work well colour-wise with this edging in the "PerfectImperfection" style.
Decor and combination recommendations
Decors Furniture and Interior Design
Availability Decorative Collection
There are no colors for this product.
Please select another product.