Duo Black Pietra Grigia-White
F8923 C1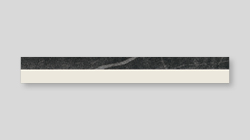 Decor
All our shown and mentioned decors are reproductions. Colour-matching decor selection only possible on the original sample.
Colour and character
Duo edging consists of two strips of equal size with different appearances. The strips in the F8923 variant are matched to the two decors Black Pietra Grigia F206 and Premium White. An uniform look can be achieved by placing this edging on a board with the same decor appearance.
Decor and combination recommendations
Decors Furniture and Interior Design
Availability Decorative Collection
There are no colors for this product.
Please select another product.